Urgensi Teknologi Pendidikan Islam Bagi Pesantren Dalam Menghadapi Perkembangan Zaman
Keywords:
educational technology, the development of the times, traditional Islamic boarding school
Abstract
Islamic education technology has an important role in Islamic education. Islamic education technology offers various facilities for the world of education. Pesantren should participate in following the progress of the times. Islamic boarding schools can take advantage of educational technology and the advancement of the times to further expand and develop educational and Islamic knowledge and can broadcast Islamic education more. In pesantren education, the role of educational technology is still not implemented. Islamic boarding schools tend to maintain their culture which some people consider ancient because they do not keep up with the times. This study used qualitative research methods. Materials are obtained from relevant sources in the form of books, scientific articles, and journals. In the study, it was found that Islamic boarding schools trying to keep up with the current changing times. Islamic boarding schools try to adopt the various advances of the times while still prioritizing the religious teachings that apply in the pesantren. With this, pesantren need not be afraid to progress and develop.
References
Ajizah, Imroatul. "Urgensi Teknologi Pendidikan : Analisis Kelebihan Dan Kekurangan Teknologi Pendidikan Di Era Revolusi Industri 4.0.†Journal of Chemical Information and Modeling 53, no. 9 (2021): 1689–99.
Albi Anggito, Johan Se, and Tiawan. Metodelogi Penelitian Kualitatif. Edited by Ella Deffi Lestari. Cetakan Pe. Sukabumi: CV. Jejak, 2018.
Dan, Pesantren Al-huda, Jejak Sejarah, Dakwah Ulama, Hadramaut D I Gorontalo, and Fakultas Ushuluddin. "THE PESANTREN AL-HUDA AND DA ' WAH HISTORY TRACES OF THE Erwin Jusuf Thaib,†n.d., 827–42.
Elihami, Elihami, and Andi Saharuddin. "Peran Teknologi Pembelajaran Islam Dalam Organisasi Belajar.†Edumaspul - Jurnal Pendidikan 1, no. 1 (2018): 1–8. https://doi.org/10.33487/edumaspul.v1i1.34.
Gunawan, Edi, and Mia Amalia. "Potret Dakwah Di Tengah Era Globalisasi Dab Perkembangan Zaman.†Over The Rim, 2017, 191–99. https://doi.org/10.2307/j.ctt46nrzt.12.
Jamaluddin, Muhammad. "METAMORFOSIS PESANTREN DI ERA GLOBALISASI,†n.d.
Lestari, Sudarsri. "Peran Teknologi Dalam Pendidikan Di Era Globalisasi.†Edureligia; Jurnal Pendidikan Agama Islam 2, no. 2 (2018): 94–100. https://doi.org/10.33650/edureligia.v2i2.459.
M. Syahran Jailani. "Kepemimpinan Kiai Dalam Merevitalisasi Pesantren.†Innovatio, n.d.
Unik Hanifah Salsabila, Risqie Pramudya Endi, Roisul Ma'ruf, Sulaiman Saputra, and Inan Taat Diyanah. "Urgensi Teknologi Pendidikan Di Era Disrupsi.†Ed-Humanistics : Jurnal Ilmu Pendidikan 5, no. 2 (2020): 721–26. https://doi.org/10.33752/ed-humanistics.v5i2.1074.
Waidi, Didin Saefudin, and Mujahidin. "Pembaharuan Pengelolaan Pesantren Tradisional; Studi Kasus Di Pesantren Al Hikmah 2 Benda Sirampog Brebes.†Jurnal Pemikiran KeIslaman 30, no. 2 (2019): 372–92.
Yaumi, Muhammad. Media Dan Teknologi Pembelajaran. Edited by Sitti Fatimah Sangkala Sirate. Edisi pert. Indonesia: Prenada Media Group, 2018.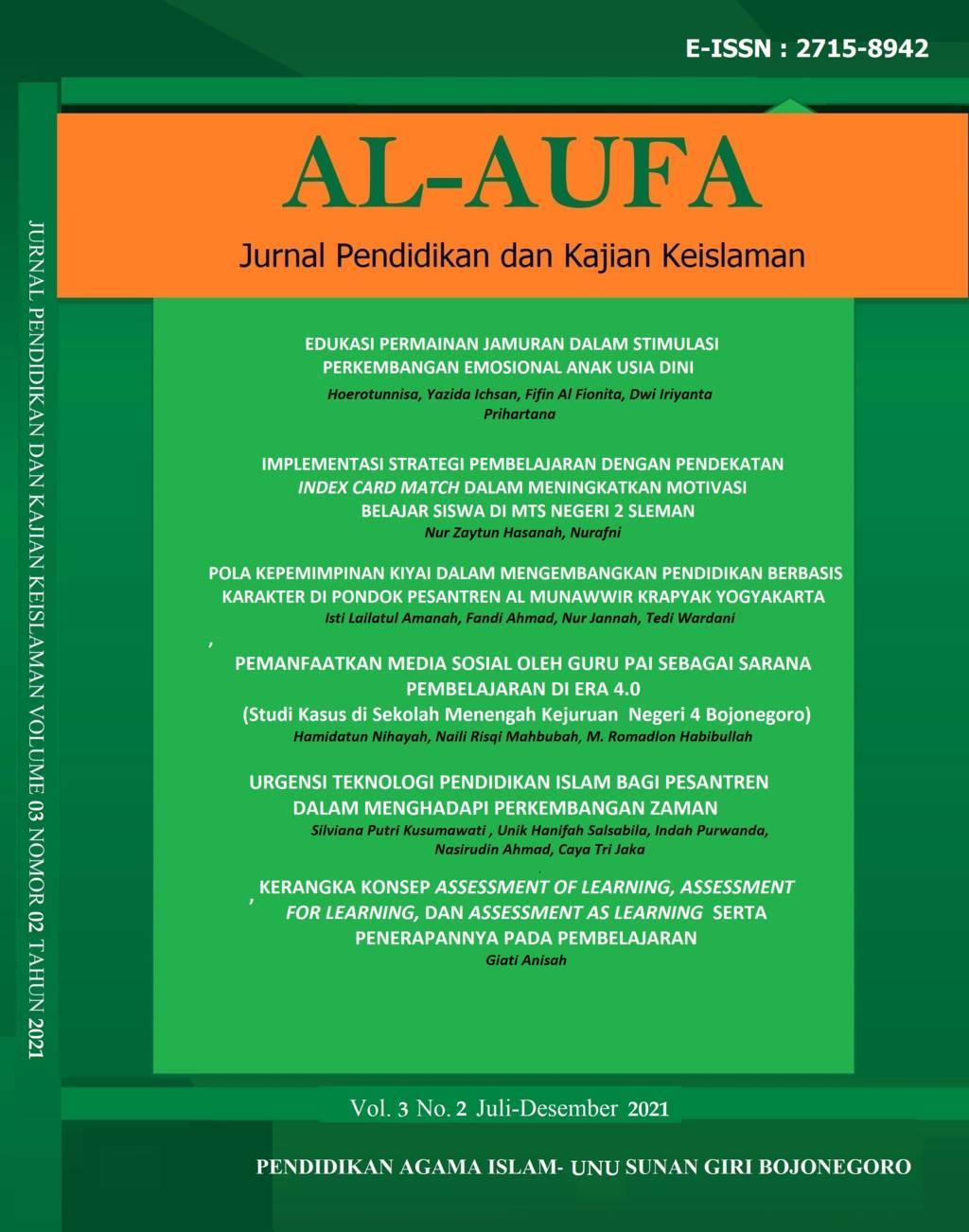 Downloads
How to Cite
Kusumawati, S. P., Salsabila, U. H. ., Purwanda, I., Ahmad, N., & Tri Jaka, C. (2021). Urgensi Teknologi Pendidikan Islam Bagi Pesantren Dalam Menghadapi Perkembangan Zaman. AL-AUFA: JURNAL PENDIDIKAN DAN KAJIAN KEISLAMAN, 3(2), 56–64. https://doi.org/10.36840/alaufa.v3i2.485
License
Copyright (c) 2021 Silviana Putri Kusumawati, Unik Hanifah Salsabila, Indah Purwanda, Nasirudin Ahmad, Caya Tri Jaka
This work is licensed under a Creative Commons Attribution 4.0 International License.