IMPLEMENTASI PEMBELAJARAN PAI MELALUI OUTBOUND DI SD ALAM AR - RIDHO SEMARANG
Keywords:
Pembelajaran PAI, Outbound
Abstract
The demand for innovative learning methods that support the achievement of learning objectives needs to be continually developed. Alam Ar-Ridho Elementary School Semarang responded to this by developing natural-based learning methods, one of which is outbound. Problems that arise then does SD Alam Ar-Ridho Semarang have requirements that must be met in the outbound activities so that the outbound activities can deliver the students to understand the material of Islamic religion? And how are the efforts made by SD Alam Ar-Ridho Semarang in achieving these requirements? Through a qualitative field approach by combining data triangulation namely observation, interviews and documentation and then analyzed in depth so researchers can find answers to these problems. The results of the field research indicate that SD Alam Ar-Ridho Semarang has a clear Operational Implementation Standard (SOP) for carrying out outbound activities as a learning method so that the safety of students is guaranteed. From the absorption point of the material, a mapping of the target achievement of students' competencies has been made which includes 3 aspects, namely cognitive, affective and psychomotor so that each student has a descriptive learning report. Especially in Islamic religious material learning through outbound activities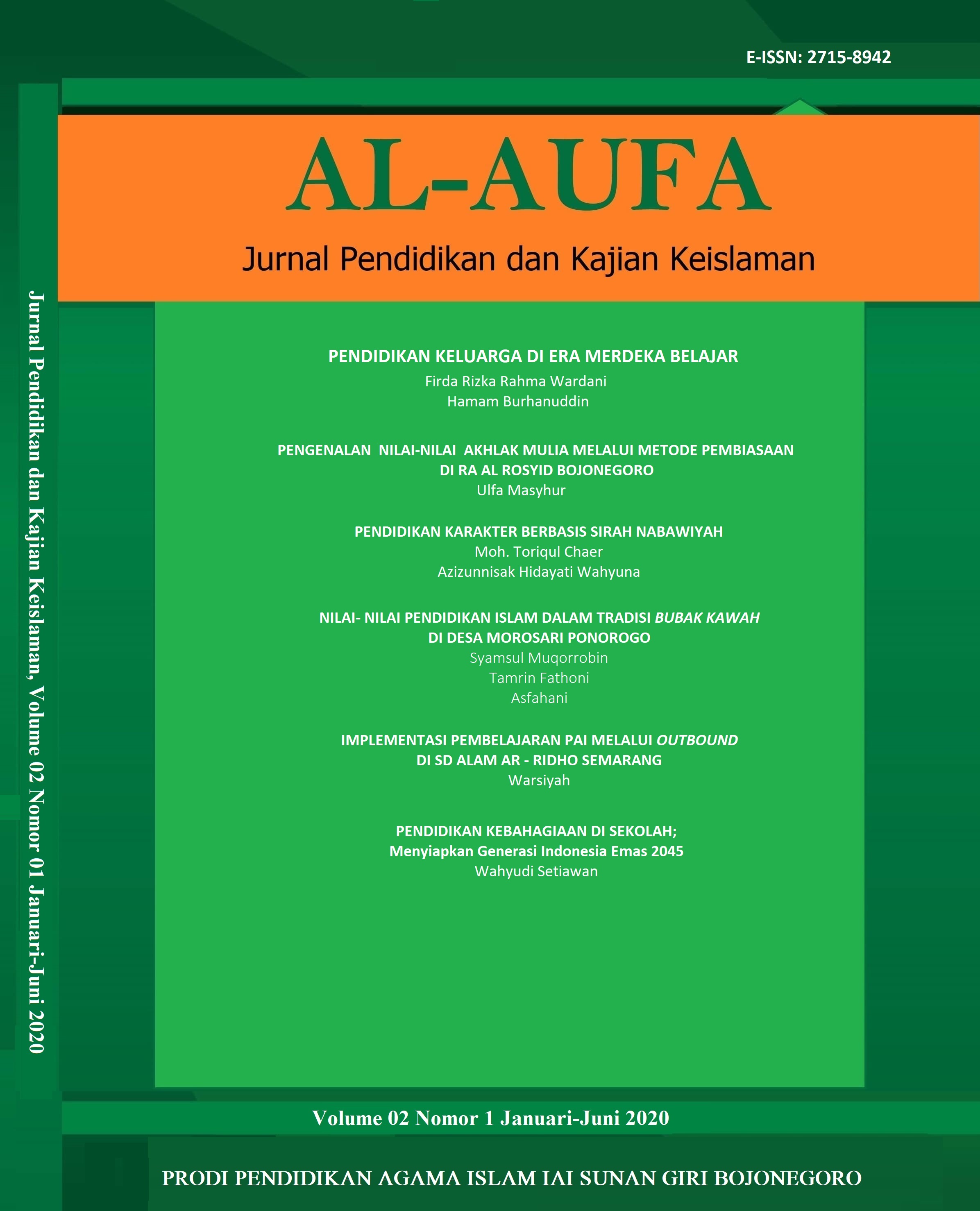 Downloads
How to Cite
Warsiyah, W. (2020). IMPLEMENTASI PEMBELAJARAN PAI MELALUI OUTBOUND DI SD ALAM AR - RIDHO SEMARANG. AL-AUFA: JURNAL PENDIDIKAN DAN KAJIAN KEISLAMAN, 2(1), 55-73. https://doi.org/10.36840/alaufa.v2i1.275
License
Copyright (c) 2020 Warsiyah Warsiyah
This work is licensed under a Creative Commons Attribution 4.0 International License.