PEMIKIRAN FILSAFAT IBNU RUSYD
(Studi Filsafat Kosmosentris, Teosentris, dan Antroposentris)
Keywords:
Ibn Rushd, Cosmocentrism, Theocentrism, Anthropocentrism
Abstract
Ibn Rushd's philosophical thought is referred to by some Islamic thinkers as the last product of Islamic intellectual property with original, creative and innovative philosophical patterns, because subsequently there were no significant developments but only theoretical explanations and deepening of studies. It is undeniable that the intellectual treasures left by Ibn Rushd are so large. Broadly speaking, it can be concluded that the philosophical school of Ibn Rushd is rational. It upholds reason and plays a major role in interpreting the realm of existence. It is as if Ibn Rushd's rational thought pattern represents the rational style of Western Islam (Morocco), which then clashes with the theological mindset and Eastern mysticism, represented by al-Ghozali.
Experts say that the rationalism that became the style of Ibn Rusd's thought was inseparable from the influence of Aristotle's philosophy, where Ibn Rushd was considered successful in teaching Aristotle's philosophy, and was able to show the weaknesses of other Muslim theologians and philosophers. So according to Atef Iraqi, to fully understand Ibn Rusd's philosophy, one must also study Aristotle's philosophy. Ibn Rushd is considered by many scholars to be a true aristocrat. However, according to Mahmud Qosim, Ibn Rushd has a distinctive originality of philosophical thought, unlike Renan's accusation. To see how far the originality of Ibn Rushd's philosophical thought is, this paper will attempt to review Ibn Rushd's philosophical thoughts which are mapped into the problems of cosmocentrism, theocentrism and anthropocentrism
References
Al-Ahwani, Ahmad Fuad,1997, Filsafat Islam, Jakarta : Pustaka Firdaus.
Enskilopedi Tematis Filsfat Islam,2003,Bandung:Mizan.
Al-Ghozali, Abu Hamid,TT, al-Munqidz min al-Dhalal, Kairo : Dar al-Kutub al-Haditsah.
Ibnu Rusyd, Abu Walid Muhammad, 2004, Tahafut at-Tahafut, terjem Khalifurahman Fath, Yogyakarta : Pustaka Pelajar.
__________,1964,Manahij al-Adillat Fi Aqoid al-Millah,Kairo: Maktabah Anglo al-Misriyah.
__________,1969, Fashl Maqol Fiima Baina al-Hikmah wa as-Syari?ah Min al-Ittisol, Kairo: Darul Ma?arif.
Iraqi, Atef, al-Aql wa at-Tanwir Fi Fikr al-Araby al-Mu?ashir, Qodhoya wa Madzahib wa Syakhsiyat, Kairo : Dar Quba? Li at-Thiba?ah wa an-Nasyr wa at-Tauziq.
Al-Jabiri, Muhammad Abid,2001,Ibnu Rusyd Siirah wa Fikr, Dirasah wa Nushus, Beirut:Markaz Dirosat al-Wahdah al-Arabiyah.
Jurnal al-Fikr, A.Khudori Saleh, Upaya Ibnu Rusyd Mempertemukan Agama dan Filsafat.Vol 15, hal 125-142, 2011.
Qosim, Mahmud,1969, Nadzariyatu al-Ma?rifah Inda Ibn Rusyd wa Ta?wiliha Ladaa Tumas al-Ikwini, Kairo : Maktabah al-Aglo al-Misyriyah.
Zar,Sirajuddin,2007, Filsafat Islam, Filosof & Filsafatnya,Jakarta : PT Raja Grafindo Persada.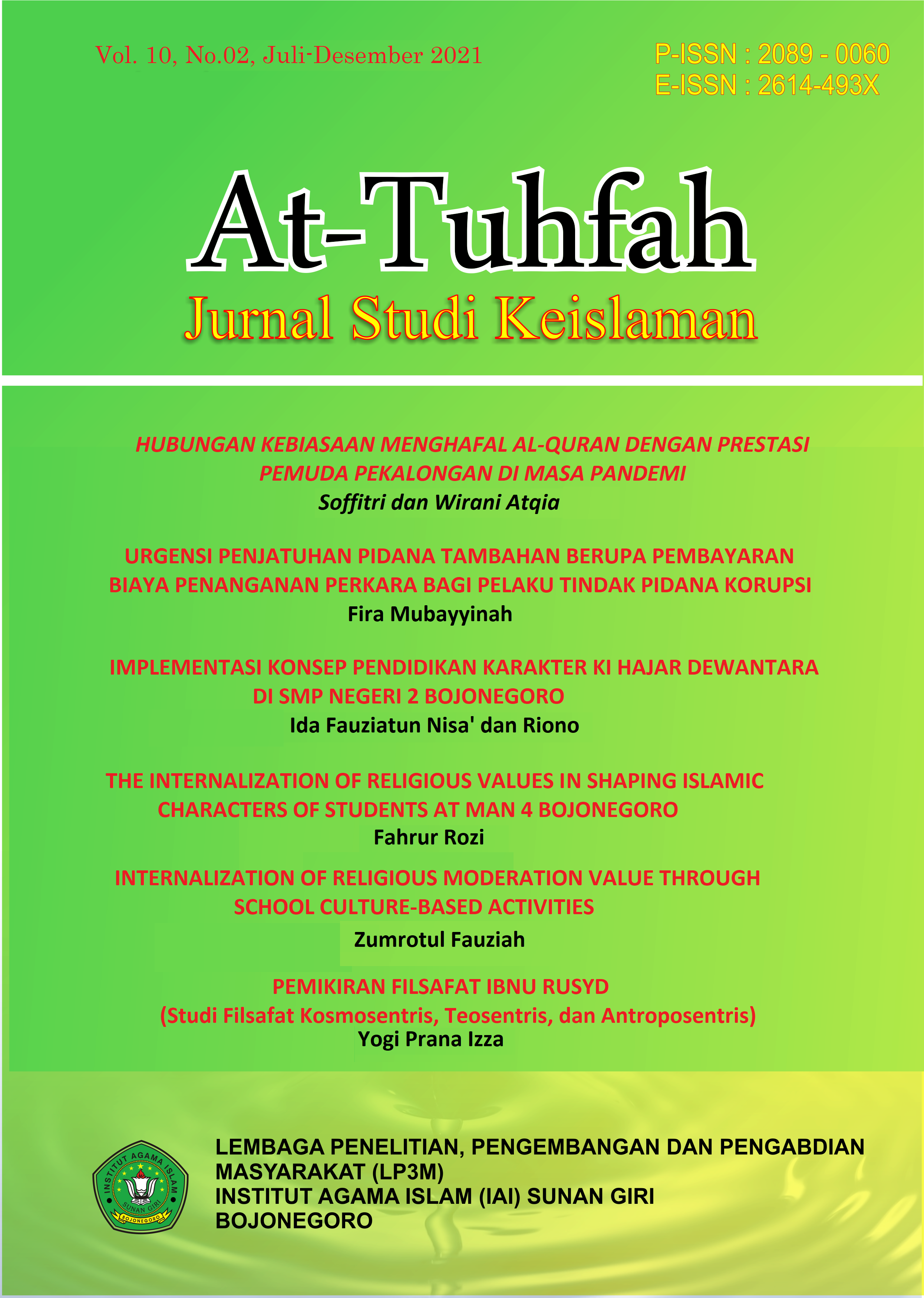 Downloads
How to Cite
izza, yogi prana. (2021). PEMIKIRAN FILSAFAT IBNU RUSYD: (Studi Filsafat Kosmosentris, Teosentris, dan Antroposentris). AT-TUHFAH: JURNAL STUDI KEISLAMAN, 10(2), 83–100. https://doi.org/10.36840/jurnalstudikeislaman.v10i2.567
License
Copyright (c) 2022 AT-TUHFAH: JURNAL STUDI KEISLAMAN
This work is licensed under a Creative Commons Attribution-NonCommercial 4.0 International License.