THE RELATIONSHIP OF MEMORY OF THE QURAN WITH THE ACHIEVEMENTS OF THE PEKALONGAN YOUTH IN THE PANDEMIC TIME
HUBUNGAN KEBIASAAN MENGHAFAL AL-QURAN DENGAN PRESTASI PEMUDA PEKALONGAN DI MASA PANDEMI
Keywords:
Memorizing, Quran, Youth, Pandemic
Abstract
The Open Unemployment Rate (TPT) at the tertiary education level has increased from 5.18 percent to 5.89 percent from August 2017 to August 2018. This shows that it is increasingly stringent for university graduates to get the jobs they want. Especially right now, the world is in the midst of a coronavirus pandemic. Almost every area of ​​life is affected. The unemployment rate has increased due to the closure of the operations of various companies so that inevitably many employees receive layoffs. All problems in life must be returned to the giver, namely Allah SWT., through the Al-Quran, the guideline for human life to be safe and successful in this world and in the hereafter Al-Quran has virtue and is able to provide benefits for people who study and memorize it well. This research is entitled "The Relationship between Memorizing Al-Quran Habits and Pekalongan Youth Achievements in the Pandemic Period". This study aims to determine the relationship between the habit of memorizing the Koran with learning achievement index, championship or competition achievements and achievements through contributions in organizations and around Pekalongan youth during the pandemic. This type of quantitative research is correlation using a questionnaire instrument with the stratified sample method.
References
Mutiarachmah, Dinda, Anastasia Sri Maryatmi. 2019. Hubungan Antara Regulasi diri dan Psychological Well-Being dengan Kecemasan dalam Menghadapi Dunia Kera pada Mahasiswa Tingkat Akhir Jurusan Kesejahteraan Sosial UIN Syarif Hidayatullah. Jakarta. Jurnal IKRA-ITH Humaniora, Vol. 3 No. 3.
Nasution, S., Metode Research, Bandung: Jemmarsh, 1991.
Sri Kasnelly, F. 2020. Meningkatkan Angka Pengaguran di Tengah Pandemi) Covid-19. Al-Mizan: Jurnal Ekonomi Syariah, 3 (1), 45-60. http://www.ejournal.an-nadwah.ac.id/index.php/almizan/article/view/142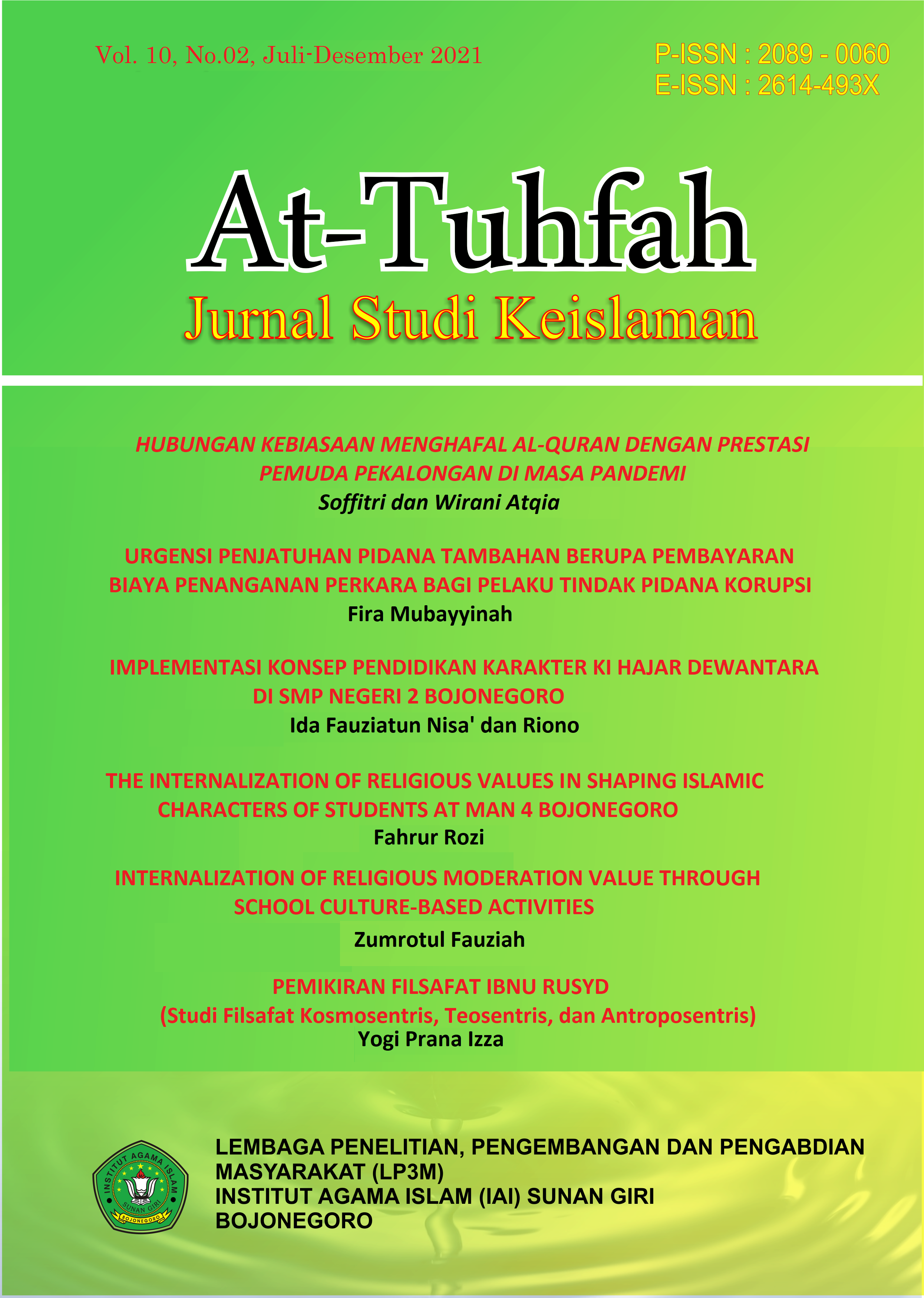 Downloads
How to Cite
-, S. (2021). THE RELATIONSHIP OF MEMORY OF THE QURAN WITH THE ACHIEVEMENTS OF THE PEKALONGAN YOUTH IN THE PANDEMIC TIME: HUBUNGAN KEBIASAAN MENGHAFAL AL-QURAN DENGAN PRESTASI PEMUDA PEKALONGAN DI MASA PANDEMI. AT-TUHFAH: JURNAL STUDI KEISLAMAN, 10(2), 1–14. https://doi.org/10.36840/jurnalstudikeislaman.v10i2.445
License
Copyright (c) 2022 AT-TUHFAH: JURNAL STUDI KEISLAMAN
This work is licensed under a Creative Commons Attribution-NonCommercial 4.0 International License.