NILAI-NILAI KEPENDIDIKAN DALAM IBADAH HAJI
Keywords:
nilai, kependidikan, haji
Abstract
The Hajj is one of the pillars of Islam that must be implemented for people who can afford. Implementation of the pilgrimage involves three potential possessed by man: physical, spiritual and treasure. If internalized, the whole set of Hajj contains a lot of value, especially the value of education. With the pilgrimage, someone forged educated by Allah with a wide range of education to achieve self-perfection as a human being. After the pilgrimage, one will become human beings of all the necessary competence to face challenges and are expected to be probadi better quality than before Hajj.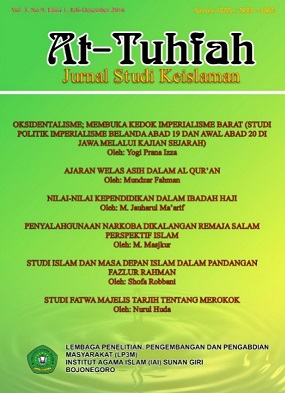 Downloads
How to Cite
Ma'arif, M. J. (2019). NILAI-NILAI KEPENDIDIKAN DALAM IBADAH HAJI. AT-TUHFAH: JURNAL STUDI KEISLAMAN, 5(9), 152. https://doi.org/10.36840/jurnalstudikeislaman.v5i9.198