PENGARUH COVID -19 DALAM FIQIH IBADAH PERSPEKTIF NEUROSAINS
Studi Kasus: Shalat Jum'at Shaf Berjarak 1 Meter Di Masjid Sunan Kalijaga
Keywords:
Lockdown Masjid, Fiqh of Worship, Neuroscience
Abstract
In March 2020 there was a lockdown in mosques in Indonesia and there were some mosques who still allowed their congregation to pray at the mosque by imposing distance shafts, because recently in the world even in Indonesia was hit by a disaster in the form of Covid-19 virus or corona virus. The government in Indonesia is taking fast response actions in dealing with the spread of the corona virus, by applying social distancing, using masks when outside the home, in terms of worship also applies distance prayers in areas that are still safe while in areas that already suffer from Covid-19 to pray pilgrims at their respective homes, this is done in order to prevent the spread of covid-19 that occurred in Indonesia. The aim is to analyze the effect of Covid-19 on the procedure for conducting prayers through online observation methods and other online news, the results of the study show that after the covid-19 occurrence some scholars believe that the procedure for conducting congregational prayers at the mosque may be done within a distance of one congregation with worshipers others one meter or less away in that area with covid-19 transmission are still few.
Downloads
Download data is not yet available.
References
Abdul Aziz, M. S. (2007). BUMI SHOLAT SECARA MATEMATIS.
Adnan, M., Khan, S., Kazmi, A., Bashir, N., & Siddique, R. (2020). COVID-19 infection : Origin , transmission , and characteristics of human coronaviruses. Journal of Advanced Research, 24, 91–98. https://doi.org/10.1016/j.jare.2020.03.005
Akerlof, G. A. (2020). Social Distance and Social Decisions Author ( s ): George A . Akerlof Published by : The Econometric Society Stable URL : https://www.jstor.org/stable/2171877 to Econometrica. Jurnal of The Econometric Society, 65(5), 1005–1027.
Al-mandhari, A., Samhouri, D., Abubakar, A., & Brennan, R. (2020). Coronavirus Disease 2019 outbreak : preparedness and readiness of countries in the Eastern Mediterranean Region. EMHJ, 26(2), 136–137. https://doi.org/10.1038/s41586-020-2012-7
Almuttaqi, A. I., Kesehatan, M., & Indonesia, R. (2020). Kekacauan Respons terhadap COVID-19 di Indonesia. 13.
Angke, M., Utara, J., Kualitatif, S., & Mustikawati, I. S. (2017). Perilaku Cuci Tangan Pakai Sabun Studi Kualitatif pada Ibu-Ibu di Kampung Nelayan. ARKESMAS, 2(1), 115–125.
Asy-Syaikh al-'Allamah Muhammad bin Sholeh al-'Utsaimin. (2007). PRINSIP ILMU USHUL FIQIH.
Barry, M., Amri, M. Al, & Memish, Z. A. (2020). COVID-19 in the Shadows of MERS-CoV in the Kingdom of Saudi Arabia. Journal of Epidemiology and Global Health, 10(1), 1–3.
Chan, A. P. L., & Chan, T. Y. K. (2018). Methanol as an Unlisted Ingredient in Supposedly Alcohol-Based Hand Rub Can Pose Serious Health Risk. Journal of Environmental Research and Public Health, 6–11. https://doi.org/10.3390/ijerph15071440
Chavez, S., Long, B., Koyfman, A., & Liang, S. Y. (2020). American Journal of Emergency Medicine Coronavirus Disease ( COVID-19 ): A primer for emergency physicians. American Journal of Emergency Medicine, xxxx. https://doi.org/10.1016/j.ajem.2020.03.036
Corrigan, P. W., Edwards, A. B., Qreen, A., Thwart, S. L., & Perm, D. L. (2001). Prejudice , Social Distance , and Familiarity with Mental Illness. Schizophrenia Bulletin, 27(2), 219–226.
Darmayani, S., & Ariyani, A. (2017). COMPARISON THE NUMBER OF BACTERIA BETWEEN WASHING HANDS USING SOAP AND HAND SANITIZER AS A BACTERIOLOGY LEARNING. Journal of Biology Education, 3(3), 258–265.
Dr. Said bin Ali bin Wahf al-Qahthani. (2017). KEUTAMAAN SHALAT.
Ibtidaiyah, M., Muhammadiyah, M. I., Sagita, R. W., Wates, R., Progo, K., Tentara, J., Km, P., & Yogyakarta, D. I. (2019). Penyuluhan dan Manfaat Cuci Tangan bagi Siswa Sekolah Dasar. Journal of Community Dedication, 1(2), 2622–2624.
Latha T, A. K. B. (2019). Compliance Towards Infection Prevention and Control Practices in Orthopedic Department of a Tertiary Care Hospital . Journal of Health and Allied Sciences, 18(9), 11–14.
Li, P., Fu, J., Li, K., Chen, Y., Wang, H., Liu, J., Zhang, Y., Liu, S., Tang, A., Yan, J., J-bo, F., K-feng, L., H-ling, W., L-jie, L., J-nan, L., Y-li, Z., S-lan, L., Z-dong, T., & J-bo, Y. (2020). Transmission of COVID-19 in the terminal stage of incubation period: a familial cluster. Journal of Infectious Diseases. https://doi.org/10.1016/j.ijid.2020.03.027
Malik, A. (2014). Fungsi Komunikasi Antara Guru dan Siswa dalam Meningkatkan Kualitas Pendidikan ( Studi Kasus Proses Belajar Mengajar pada SMP Negeri 3 Sindue ). JURNAL INTERAKSI, 3(2), 168–173.
Muhammadiyah, P. P. (2018). FIKIH KEBENCANAAN TUNTUNAN SHALAT.
Peeri, N. C., Shrestha, N., Rahman, S., Tan, Z., Bibi, S., & Baghbanzadeh, M. (2020). The SARS, MERS and novel coronavirus (COVID-19) epidemics, the newest and biggest global health threats: what lessons have we learned? Journal of Epidemiology, 0(0), 1–10. https://doi.org/10.1093/ije/dyaa033
Tuntunan ibadah dalam kondisi Darurat, Nomor 03/EDR/1.0/E/2020 (2020) (testimony of Pimpinan pusat Muhammadiyah).
Shahih bukhari (Issue d). (2010).
Shahih muslim (Issue d). (2010).
Sugono, Dendy, S., & Maryani, Yeyen, M. T. Q. A. (2008). KAMUS BAHASA INDONESIA.
Telaumbanua, D. (2020). Urgensi Pembentukan Aturan Terkait Pencegahan Covid-19 di Indonesia. Jurnal Pendidikan, Sosial, Dan Agama |, 12(1), 59–70.
Xu, C., Luo, X., Yu, C., & Cao, S. (2020). The 2019-nCoV epidemic control strategies and future challenges of building healthy smart cities.
Yang, L., & Lian-yang, Z. (2020). 识 》 解读. 45(2), 113–117.
Yang, R. (2017). HAL-HAL YANG DIWAJIBKAN ATAS ORANG YANG SEDANG SAKIT. In 1238 H/2017 M.
Yunus, N. R., Rezki, A., Nabi, K., Saw, M., Wabah, M., & Menular, P. (2020). Kebijakan Pemberlakuan Lockdown Sebagai Antisipasi Penyebaran Corona Virus Covid-19. Jurnal SOSIAL&BUDAYA SYAR-I, 7(3), 211–282.
Zhou, E. W. (2020). THE CORONAVIRUS PREVENTION HANDBOOK.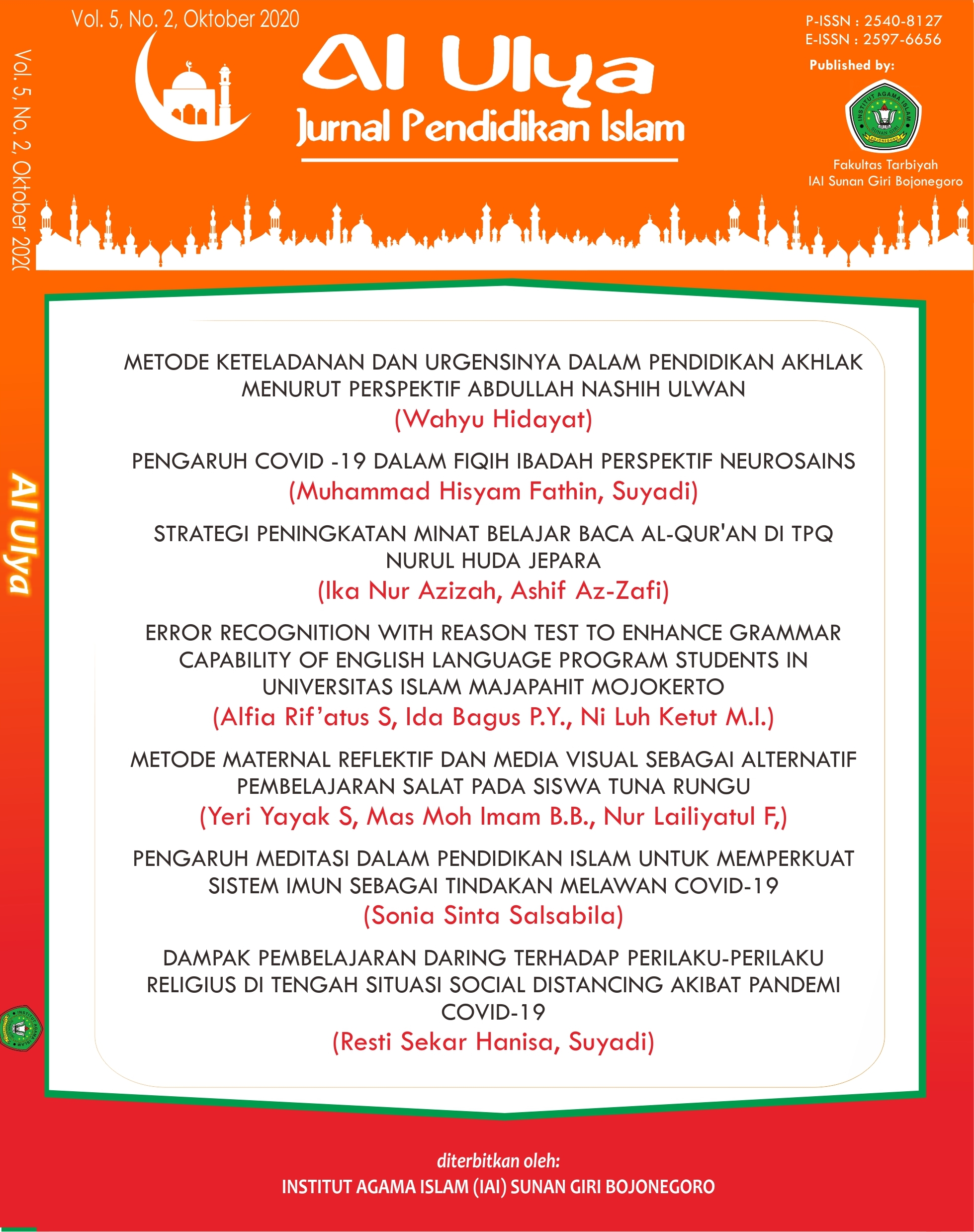 Downloads
How to Cite
Muhammad Hisyam Fathin, & Suyadi. (2020). PENGARUH COVID -19 DALAM FIQIH IBADAH PERSPEKTIF NEUROSAINS: Studi Kasus: Shalat Jum'at Shaf Berjarak 1 Meter Di Masjid Sunan Kalijaga. Al Ulya : Jurnal Pendidikan Islam, 5(2), 136-150. https://doi.org/10.36840/ulya.v5i2.290
License
Copyright (c) 2020 Al Ulya : Jurnal Pendidikan Islam
This work is licensed under a Creative Commons Attribution-ShareAlike 4.0 International License.