Pendekatan Budaya "Jagongan" pada Masyarakat Pedesaan di Kabupaten Bojonegoro
Abstract
Religious behavior is a condition that exists in humans, which encourages someone to do or behave related to religious teachings. Various institutions in human life will influence and direct the actions or behavior of citizens. To build the religious behavior of rural communities religious leaders conduct guidance with weekly recitation, tahlil, and sholawatan. The animal society is still lacking in religious behavior, most residents and children cannot read the Koran, let alone understand the teachings of Islam, and on average they have not performed the five-time compulsory prayer.
Based on data from Kedewan Village 100% of its citizens are Muslim, the habit of people gathering at night or in the morning when they take their sons and daughters to study, such community meetings are called "jagongan". Therefore, one of the methods or approaches taken in the context of building religious behavior in the community is by taking part in the show, because they are not yet accustomed to paper invitations, but still through direct talks to meet each other. In this watch, it gives input to the parents' thoughts about religious activities so that changes in behavior and practice of Islamic teachings occur.
Downloads
Download data is not yet available.
References
A.Ghani KH Abdul Manan, NU Online (Ketua Lembaga Ta'mir Masjid PBNU), (diakses Juli 2019).

Ahyadi,Abdul Azis, 1988, Psikologi Agama Kepribadian Muslim Pancasila, (Jakarta; Sinar Baru.1988).

Adnan Annawi, Membangun Kehidupan di Jalan Tuhan. (Jakarta : Gema Insani. 2000)

Darodjat, Zaakiah,. Ilmu Jiwa Agama. (Jakarta : Bulan Bintang. 1998)

Departemen Agama RI. Psikologi Pendidikan. (Jakarta : Biro Kepegawaian Sekjen Depag. 2004).

Gerungan. Psikologi Sosial. (Jakarta : Rineka Cipta, 1997), hal.149

Jones, Pip, 2010, Pengantar Teori - teori sosial, Dari Teori Fungsionalisme hingga Post-Modernisme, Alih bahasa: Achmad Fedyani Saifuddin, Jakarta, yayasan Pustaka Obor Indonesia.

Minarti, Sri, Manajemen Sekolah, Mengelola Lembaga Pendidikan Secara mandiri, Ar Ruzz Media Jogjakarta, ISBN: 978-979-25-4873-D

Minarti Sri, Ilmu Pendidikan Islam, Tinjauan Normatif dan Realitas, Amzah, Jakarta, 2013 ISBN: 978-602-8689-69-4

Minarti, Sri, Manajemen Diri Islami, (Strategi Kepemimpinan dalam Mengembangkan karakter berbasis Nilai-nilai al Fatihah) Interpena Yogyakarta, 2016. ISBN; 978-602-1330-44-9.

Profil Kecamatan Kedewan Kabupaten Bojonegoro Tahun 2019.

Purwadarminta, Kamus Besar Bahasa Indonesia Terbaru, Surabaya; Amalia Surabaya, 2003.

Pranala Link https:/kbbi.web.id/kaji

Sudirman, Pilar-pilar Islam: Menuju Kesempurnaan Sumber Daya Muslim (Malang, UIN MALIKI PRESS.) 2010.

Tim Kemenag RI, Pendidikan Agama Islam, 2000.

Wahab, Rohmalina, Psikologi Agama, (Jakarta; Raja Grafindo) 2015.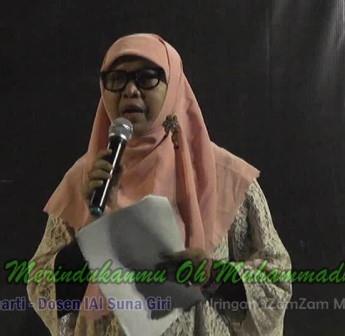 Downloads
Published
2020-04-01 — Updated on 2020-06-14
How to Cite
Sri Minarti. (2020). Pendekatan Budaya "Jagongan" pada Masyarakat Pedesaan di Kabupaten Bojonegoro. Al Ulya : Jurnal Pendidikan Islam, 5(1), DOI: https://doi.org/10.36840/ulya.v5i1.246 II 99-112. https://doi.org/10.36840/ulya.v5i1.246
License
Copyright (c) 2020 Al Ulya : Jurnal Pendidikan Islam
This work is licensed under a Creative Commons Attribution-ShareAlike 4.0 International License.