Pola Asuh Orang Tua Terhadap Anak Berdasarkan Golongan Darah
(Tinjauan Analisis Islamic Studies)
Hamam Burhanuddin

Institut Agama Islam Sunan Giri Bojonegoro
Abstract
The study in this paper are explain about the studies of medical (medicine) blood type have the same relationship to human character because the blood producing antibodies and antigens. It could determine a person helpless hold strong or weak body, has an allergy to something or not, in the blood also contains various nutrients (like protein) and also the oxygen being supplied to the brain and nerves and body affect performance someone will then be emanated from the attitude of the person and social interaction. As has been explained, but keep in mind, there is blood in the genes, the nature of which is carried in the body/genotif rightly so it is, but we can not ignore the fenotif/nature arising or visible, this trait appear due to interaction between genes and the environment, so even if the person is smart in the intelligentsia and emotional, but grew up in a bad environment is going to be a bad trait. The theory of personality based on blood type can be used as a reference in parenting children through an understanding of the fundamental principles of the application of personality accompanied by parenting. Furthermore, the taking of steps in the care tailored to the stage of development of the child, in the Qur'an explicitly did not mentioned paragraph that discusses about blood type, but in the Qur'an there are blood (ad-Dam), Islamic studies in the study of Children is seen as a mandate from God, forming 3-dimensional relationships, with parents as the central figure. First, her parents relationship with God that is backed by the presence of children. Second, the relationship of the child (which still need a lot of guidance) with God through his parents. Third, the relationship of the child with both parents under the tutelage and guidance of God.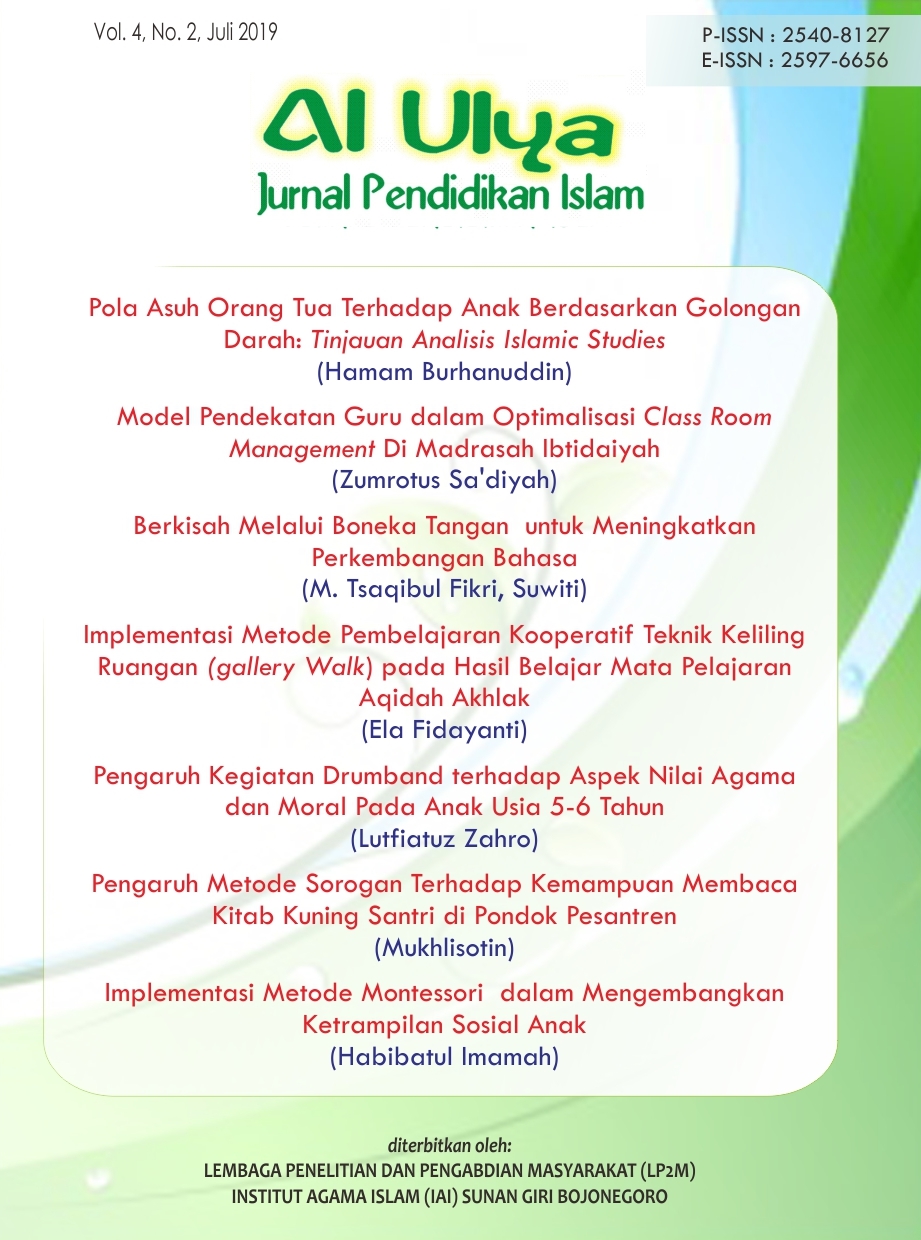 Copyright (c) 2019 Al Ulya
This work is licensed under a Creative Commons Attribution-ShareAlike 4.0 International License.