OPTIMALISASI LAHAN PEKARANGAN SEBAGAI UPAYA PEMENUHAN KEBUTUHAN PANGAN KELUARGA
THE OPTIMALISATION OF YARD AREA AS AN EFFORT TO FULFILL FAMILY'S FOOD NECESSITY
Keywords:
Kebutuhan Pangan Keluarga, Lahan Pekarangan
Abstract
Piyak is a small village which is prosperous with its agricultural product. Most of the land area of this village is ricefield area which can crop rice three times in a year. The community of Piyak only grow rice in their rice throughout the year. As a result, they need to buy another food necessities, such as seasoning, vegetables, and fruit, in the nearest market. They actually do not really need to buy those things because they could grow the vegetables and fruits in their own yard area. However, they do not have sufficient knowledge on how to use the yard area and also the prospect. Therefore, this community service activity is aimed to educate the community about the way to use their yard area optimally to help them fulfill their familys' food necessities. The method used in this community service activity is Assest Based Community Development (ABCD). The community was given knowledge about the benefit of yard area and the crops that they can get from it. Then, the community made the growing media and planted vegetables and fruits in their yard area. They plant 720 food plantation which consist of eggplant, chili, and papaya. The seeds of eggplant, chili, and papaya were got from Environmental Services of Bojonegoro Regency. Besides those plantation, the community could add other plantation based on their needs. Therefore, the optimalisation of yard area not only able to fulfill the food necessities but also could add the families' income.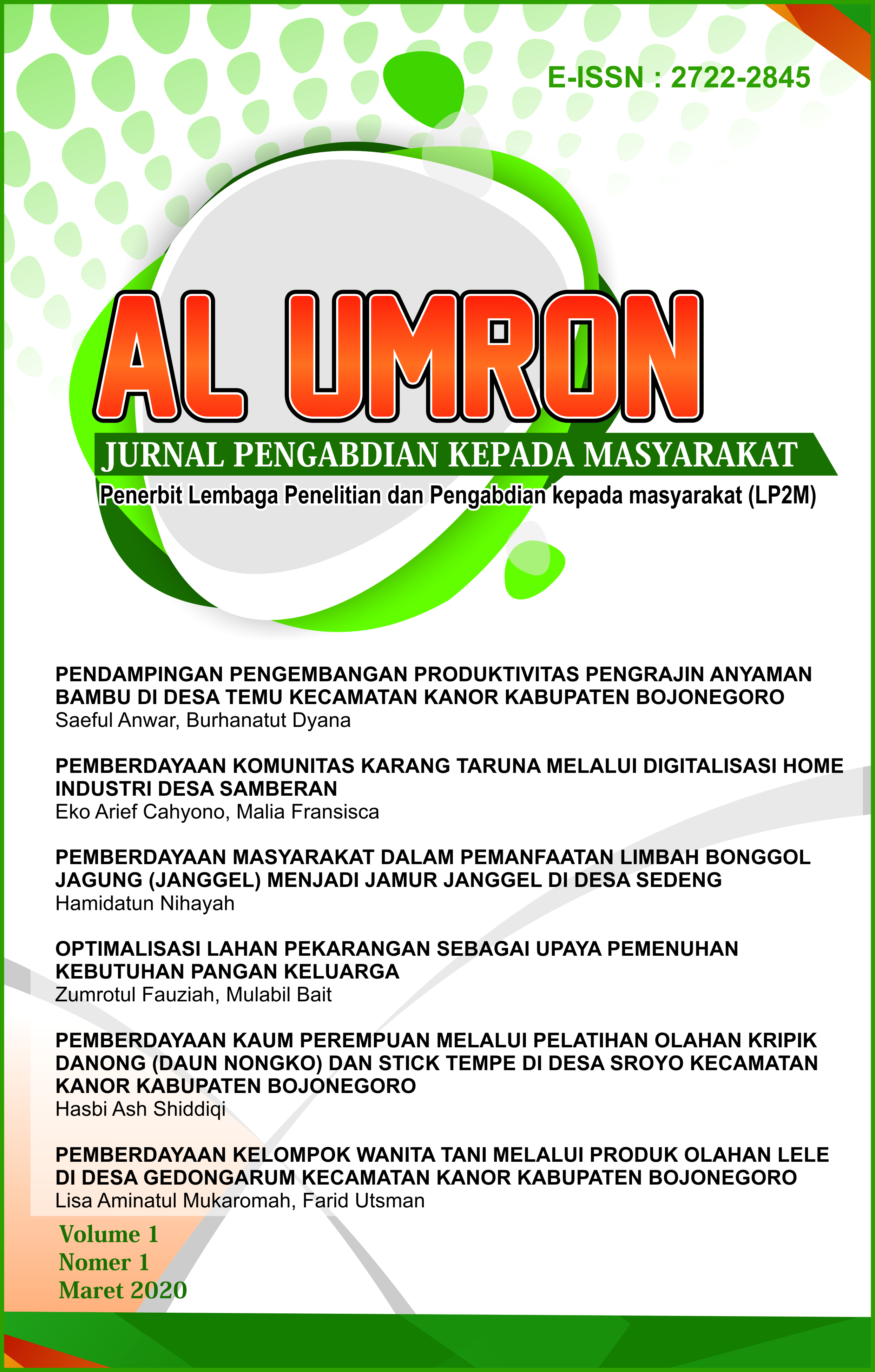 Downloads
License
Copyright (c) 2020 AL-UMRON : JURNAL PENGABDIAN KEPADA MASYARAKAT
This work is licensed under a Creative Commons Attribution 4.0 International License.