DESAIN E-LEARNING PADA TAYANGAN PROGRAM BELAJAR DARI RUMAH MATA PELAJARAN BAHASA INDONESIA UNTUK SD DI TVRI
Keywords:
e-learning, desain pembelajaran, Belajar Dari Rumah, Bahasa Indonesia
Abstract
This research is to describe the e-learning design of the Home Learning Program in Indonesian for elementary schools aired on TVRI. The main focus into five sub-focuses, namely on learning indicators, a series of lessons, learning methods, delivery strategies, and evaluation strategies. This research is descriptive qualitative research. Data were collected using observation sheets. Learning indicators are composed of C1 and C2 competencies adjusted to the level of student intellectual development. The learning series was arranged based on a prerequisite method or prerequisite and sequentially connected. The learning method used is an expositive method that emphasizes the aspects of absorbing new information. The delivery strategy through TVRI is the right choice because it can be accessed by all students in Indonesia, both signal and operational. Evaluation cannot be carried out optimally, especially for competencies that require practice because students cannot interact with students directly
References
Asrul, dkk. 2015. Evaluasi Pembelajaran. Bandung: Cipta Pustaka.
Ghirardini, Beatrice. 2011. E-Learning Methodologies: A Guide for Designing and Developing E-Learning Course. Roma: FAO.
Hailikari, Telle. 2009. Assessing University Students' Prior Knowledge: Implication for Theory and Practice. Helsinki : University of Helsinki Departemen of Education.
Ibda, Fatimah. 2015. Perkembangan kognitif : Teori Jean Piaget. Jurnal intelektualita, volume 3 nomor 1 tahun 2015, (jurnal.ar-raniry.ac.id) halaman 34.
Krathwohl, David R. 2002. "A Revision of Bloom's Taxonomy: An Overview", Theory Into Practice, Volume 41, Number 4, Autum 2002. Ohio: College of Education, The Ohio State University.
Milles, Matthew B. dan Huberman, A. Micheal 1994. Qualitative Data Analysis. California: Sage Publication Inc.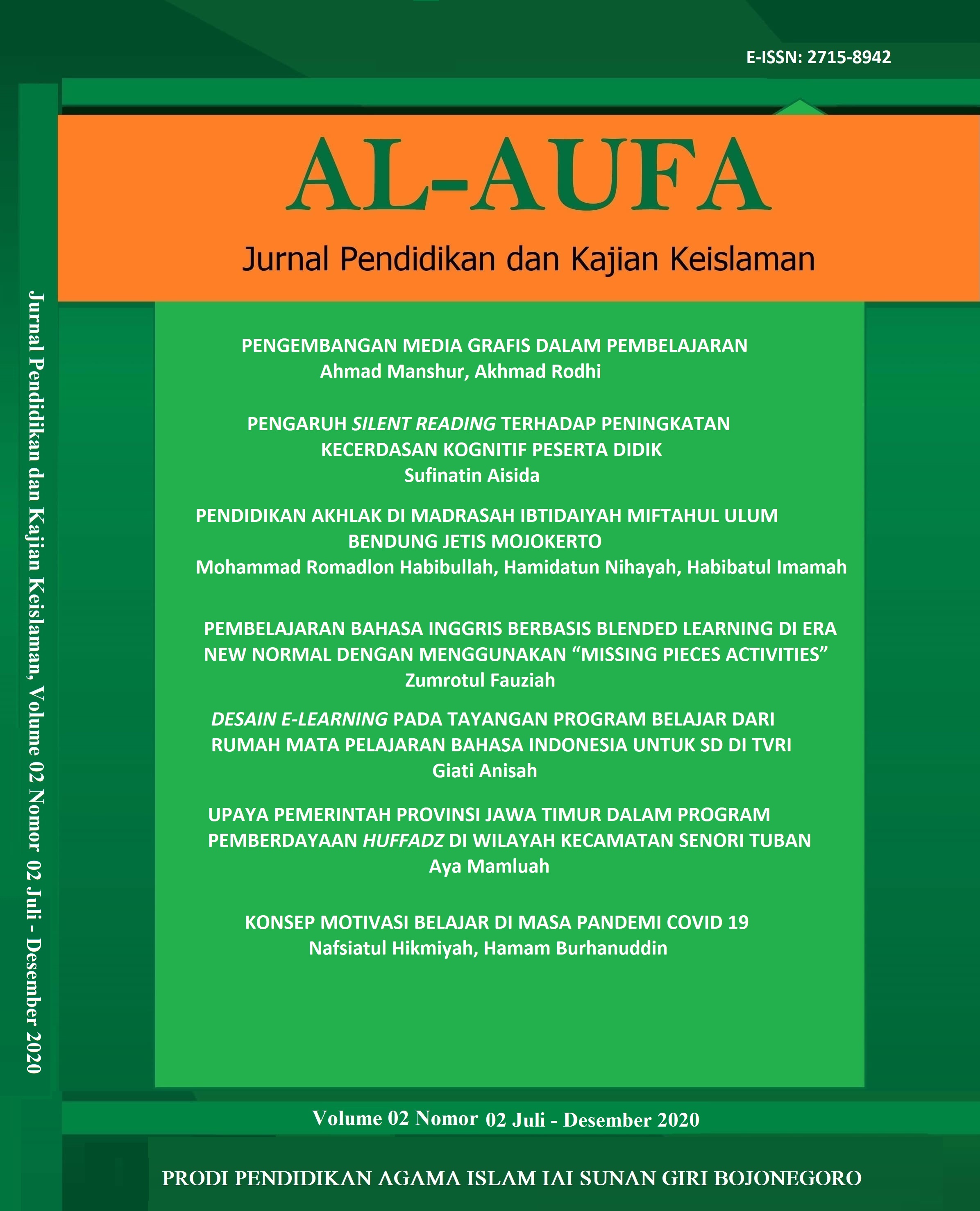 Downloads
How to Cite
Anisah, G. (2021). DESAIN E-LEARNING PADA TAYANGAN PROGRAM BELAJAR DARI RUMAH MATA PELAJARAN BAHASA INDONESIA UNTUK SD DI TVRI. AL-AUFA: JURNAL PENDIDIKAN DAN KAJIAN KEISLAMAN, 2(2), 58-69. https://doi.org/10.36840/alaufa.v2i2.340
License
Copyright (c) 2020 Giati Anisah
This work is licensed under a Creative Commons Attribution 4.0 International License.