PEMBELAJARAN BAHASA INGGRIS BERBASIS BLENDED LEARNING DI ERA NEW NORMAL DENGAN MENGGUNAKAN "MISSING PIECES ACTIVITIES"
Keywords:
Blended learning, Distance Learning, Missing Pieces Activities
Abstract
 Since Covid-19 attacked several parts of the world, students are suggested to do distance learning. However, since New Normal era, students are allowed to do offline learning by implementing health protocol. This research is aimed to describe teaching method with blended learning model namely "Missing Pieces Activities" in English Subject for Twelfth Graders of Senior High School. This teaching method involves various activities, they are: Missing Words for listening, Missing Small Thing speaking, and Missing Sentences for Reading. With this blended learning model, the activities are done by combining the online learning and offline learning. Source of data in this research is activities done by the students during the teaching and learning process. The data was collected through observation and inerview. The finding of the research shows that students are more actively involved in the teaching and learning process. Further, they have higher motivation in learning due to the various activities they did in learning process. Therefore, this Missing Pieces Activities can be one of learning  methods in New Normal Era to increase students' activeness and motivation both in distance and offline learning.
References
Akkoyunlu, B., & Soylu, M.Y . 2008. A Study of Students' Perceptions in A Blended Learning Environment Based on Different Learning Styles. Educational Tecnhnology and Society. 11 (1), 183-193.
Bayat, Ozlem. 2004. The Effect of Cooperative Learning Activities on Students Attitudes towards English Reading Courses. Bilkent University – Ankara.
HW Tseng, EJ Walsh Jr. 2016. Blended vs Traditional Course Delivery: Comparing Students' Motivation, Learning Outcomes, and Preferences. Quarterly Review of Distance Education.
Kiryk, Amy Talak. 2010. Using Games in A Foreign Language Classroom. SIT Graduate Institute
Richards, J. C. & Rodgers, T. S. (2001). Approaches and Methods in Language Teaching (2nd ed.). Cambridge: Cambridge University Press.
Sjukur,B. Sulihin. 2012. Pengaruh Blended Learning Terhadap Motivasi Belajar dan Hasil Belajar Siswa Tingkat SMK. Jurnal Pendidikan Vokasi.
Sofiana, Nilna. 2015. Implementasi Blended Learning pada Mata Kuliah Extensive Listening. Jurnal Tarbawi Vol.12 No.1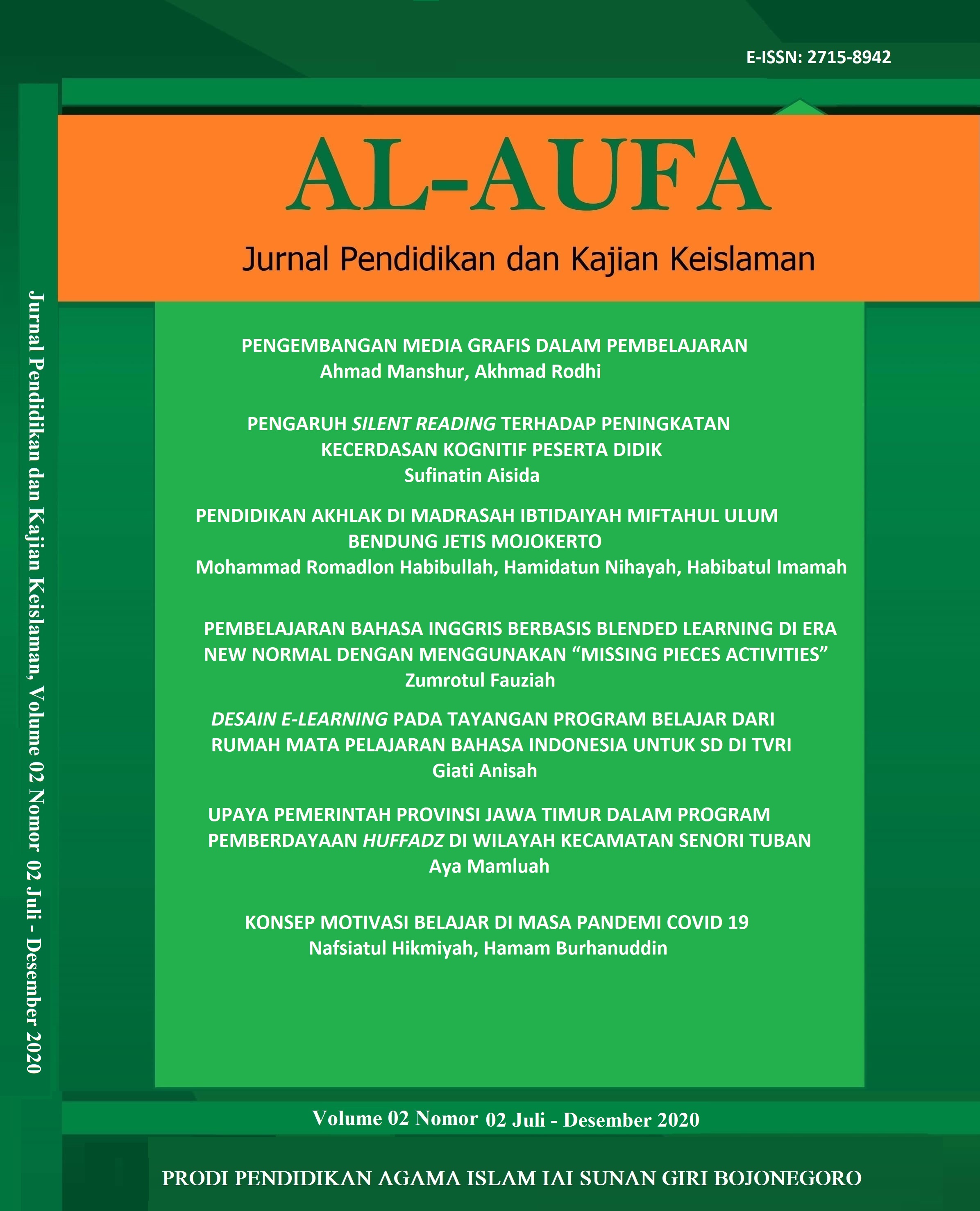 Downloads
How to Cite
Fauziah, Z. (2020). PEMBELAJARAN BAHASA INGGRIS BERBASIS BLENDED LEARNING DI ERA NEW NORMAL DENGAN MENGGUNAKAN "MISSING PIECES ACTIVITIES". AL-AUFA: JURNAL PENDIDIKAN DAN KAJIAN KEISLAMAN, 2(2), 49-57. https://doi.org/10.36840/alaufa.v2i2.334
License
Copyright (c) 2020 Zumrotul Fauziah
This work is licensed under a Creative Commons Attribution 4.0 International License.