METODELOGI PEMBELAJARAN PENDIDIKAN AGAMA ISLAM UNTUK KAUM LANSIA DI PONDOK PESANTREN LANSIA AL HIDAYAH KELURAHAH DOROMUKTI KECAMATAN TUBAN KABUPATEN TUBAN
Keywords:
Metode Pembelajaran, Pai Dan Lansia
Abstract
Education is one of the primary needs in life, thats means humans cannot be separated from educational activities. The purpose of education in general is to educate the nation's life and develop the whole person. Educators will use different methods in each class when he teaches, such as one face-to-face and collaborate with other learning methods. The age of the students in learning influences the method used by educators. Elderly education activities (Elderly) do not occur very much in Indonesia. The institutions that overshadow and organize the education of the elderly are still lacking. Over a period of nearly 50 years (1971-2018), the percentage of Indonesia's elderly population has doubled. The educational needs of the elderly are actually still large. The greatest need is education about religion. To cover the activity, there is an institution for organizing elderly education, namely al Hidayah Islamic boarding school, Doromukti sub-district, Tuban district. This Islamic boarding school organizes a special Islamic religious education for the elderly. Islamic religious education methods used in the al Hidayah Islamic boarding school in Doromukti sub-district, Tuban district include; methods of travel, lecture, support, sorogan and practice.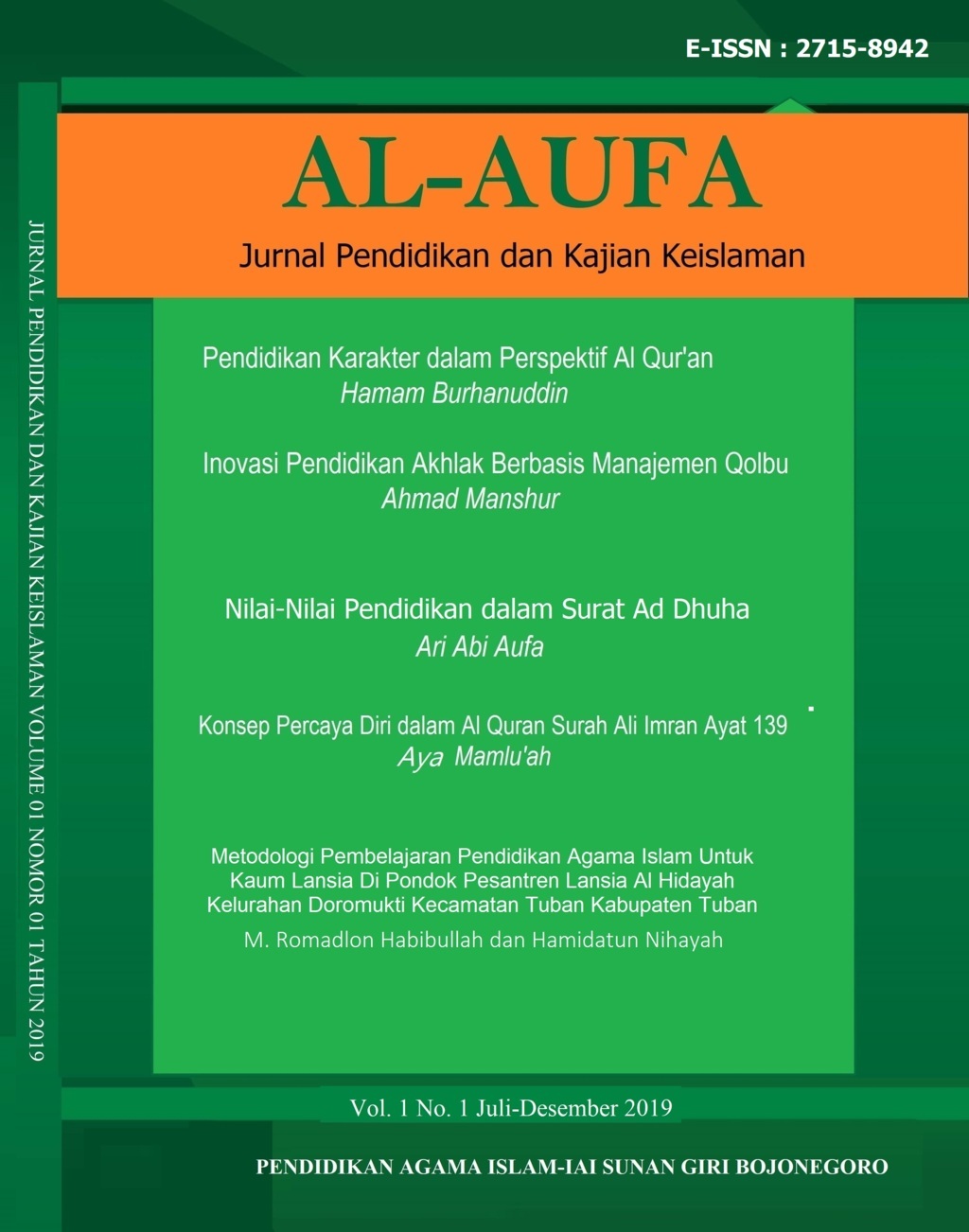 Downloads
How to Cite
Habibullah, M. R., & Nihayah, H. (2019). METODELOGI PEMBELAJARAN PENDIDIKAN AGAMA ISLAM UNTUK KAUM LANSIA DI PONDOK PESANTREN LANSIA AL HIDAYAH KELURAHAH DOROMUKTI KECAMATAN TUBAN KABUPATEN TUBAN. AL-AUFA: JURNAL PENDIDIKAN DAN KAJIAN KEISLAMAN, 1(1), 40-54. https://doi.org/10.36840/alaufa.v1i1.223